Dental Bridges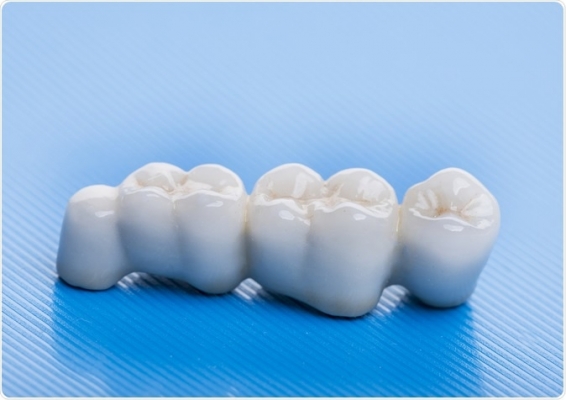 What Is A Dental Bridge?
A Dental Bridge consist of a number of Dental Crowns that are joined together to form one single unit. It therefore 'bridges' over a gap or space, left by another tooth that was removed. Dental bridges cannot be removed by yourself and are cemented in place by your dentist.

Dental Bridges rely on the existing anchor teeth for support and if any of these supporting teeth fail, the whole bridge will fail. It is therefore vital that proper oral hygiene should be maintained at all times to ensure the longevity of the dental bridge. The life expectancy of a dental bridge is +- 12 years-plus or as long as the anchor teeth are intact. When a tooth is removed the ideal is to usually close this gap with a new tooth or some prosthesis as soon as possible. Failing to do so will create movement of the adjacent and opposing teeth and over time create more complicated problems that will arise.
3 Permanent Options Exist To Close Gaps:
Dental Implants, Dental Bridges or a Removable Dentures. Porcelain Dental Bridges can be a great solution to close gaps left by 1 or more missing teeth.


Bridges Can Correct The Following:
Speaking problems (lisping or 'slurring' sounds caused by missing teeth)

Making chewing and biting easier

Provide added comfort

Provide soft tissue support to prevent wrinkle formation



Material for Dental Bridges
Acrylic dental bridge

Cast Metal dental bridge

Porcelain with metal support underneath

Fibre Dental Bridges (a more short-term & economical option) - please note that these are only applicable to 3-unit bridges

Maryland Dental Bridge (A Dental Crown with wings for retention)
| | | |
| --- | --- | --- |
| | | |
| | 3-unit Dental Bridge | 6-unit Dental Bridge |
Types of Dental Bridges
Computerized (CAD/CAM) CEREC dental bridges

Permanent dental bridges

Canti-lever dental bridges

Temporary dental bridges

Removable dental bridges (Also called short span dentures)
The Length of a Dental Bridge
The more missing teeth, the longer the dental bridge will get. If only 1 tooth is missing and the gap is 'bridged' using 2 anchor teeth it is called a 3-unit dental bridge. If only one anchor tooth is used to bridge a gap, it is called a Cantilever dental bridge.
The Procedure
The First Appointment:
The anchor teeth adjacent to the missing tooth is prepared for dental crowns. A temporary crown or bridge is placed over the prepared teeth to protect them until the final bridge is fitted.
Second Appointment:
The permanent bridge is fitted with temporary or permanent cement. Sometimes to make things more retrievable, the dentist will use a temporary cement so access to the naked teeth is possible if the need would arise.

Computerized Dental Bridges (CAD/CAM or CEREC) can be made in just 1 appointment. (Same Day Dentistry). Computerized Bridges make use of digital impressions to capture the prepared teeth. No laboratory is necessary and the whole design is milled out in the office.

Dental Bridges vs Dental Implants
What option is best? Dental Implants or Dental Bridges when closing a gap. The answer is more complex as many factors play a role in the decision-making process. Factors such as costs, the long-term prognosis of anchor teeth, health and age of the patient, quality of the supportive tissue and bone and aesthetic importance play a big role. The general answer is that a Dental Implant will be best longterm as the anchor teeth are left intact and do not play a role in the prognosis of the treatment.



Pricing
The price of dental bridges will vary depending on the number of crown units applicable. For an up to date estimate, please fill in the form below to request information.
---