Kids Dental Check up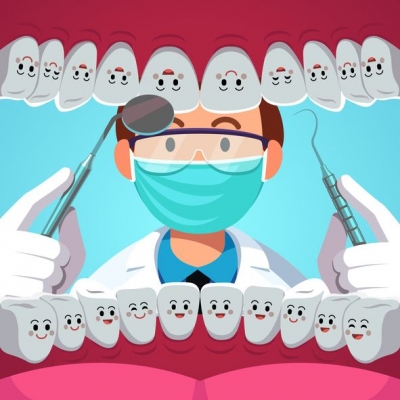 Most kiddies need to see the dentist every 6 months to ensure optimum dental health. 6 Months is enough time for most of our little ones to develop tooth decay (caries) and many times 3 monthly visits are indicated if your child is at a higher risk.

If your child already had 2 or more fillings in the past year, he/she will be at a higher risk for developing new cavities and more regular exam checks will be essential.



What Happens At The Dental Exam?

Medical/Dental History


After meeting your child we take a detailed medical and dental history to help us diagnosing and preventing problems.
Improper tooth brushing and oral hygiene habits, teeth grinding, and

allergies

are some of the important things that can play a big role in compromising the child's dental health. It is important that you give us a list of all the chronic and current medications that he/she is taking. Some drugs can have a

negative or even catastrophic

impact on some dental treatment.
Home care and Diet

For most kids, this is where it all goes wrong. We might ask some tough questions to help in diagnosing and giving you some advice and answers. Questions include:

* Is he/she brushing and flossing themselves or are you helping?
* Do you supplement with fluoride?
* What is the frequency of brushing?
* Frequency of snacking and sugar control
Main Complaint


If your child has an existing dental

complaint

, we will do our best to help, but usually, it is best to spend the time allocated for the dental exam only. This way we can formulate a diagnosis and holistic treatment plan to address all the dental problems.



X-rays


Digital X-rays and scans reveal any underlying problems. Sometimes a 360-degree PANORAMIC X-ray is necessary to help with a more global diagnosis and looking at potential tooth abscesses, infection and to monitor the growth and position of the adult teeth.



Cavity Check and Existing Dental Fillings


After the x-ray check, we also make use of

high magnification

to visibly identify possible tooth decay(caries). In addition, we will take note of all other existing dental fillings and other related dental work.
This will help us to do a risk analysis to determine your child's risk for developing new cavities or tooth decay lesions. Depending on the risk( low, medium or high) we can now place him/her on a Prevent Cavities Program.


Gums, Gingivitis and Breath Analysis


Bleeding gums and bad breath are all symptoms we can help with and our oral hygienists will specifically focus on these areas.



Orthodontic Screening
Many changes continually take place during these early years of life and specifically the movement of teeth. Altered eruption patters, crowding and skew teeth are some of these changes. By diagnosing early we can also treat early and prevent more complex problems further down the line.



Our

Prevent Cavities Program

will help and teach you how to prevent future tooth decay problems for your child.
---