Your Child's First Dental Visit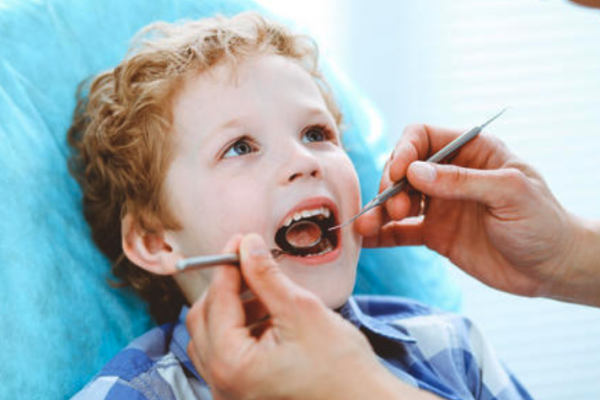 At Blouberg dental Practice we love treating kids! We understand that kids have different dental needs than adults and therefore they require some unique care and attention! Regular visits to the dentist should be a positive experience for children and parents. During this time the teeth are still forming and developing and the mouth environment is changing rapidly.
This is a rare window of opportunity that we get to change the microbial environment and introduce specific protocols at this early age that can positively impact the health of the child's teeth for life!
My First Dental Visit
Protect your child's teeth by starting dental check-ups early. We recommend that the first dental visit should occur within six months after the baby's first tooth appears, but no later than the first birthday. This will allow for introducing dental care at an early age and creating a familiar environment for the child.
It's best to meet the dentist when your child is having no dental problems—don't wait until an emergency comes up. This way the first visit can be playful and you and your child can really celebrate this big event in starting the journey to a healthy mouth and smile!


What to expect during the first visit
Depending on the age of your child, the first visit to us should be after the 1st birthday. This should be a FUN visit and we spend time to make this as playful as possible. No dental treatment if possible.

The following will be done:
1.

Risk assessment for cavities (

PCP plan

)

2.

Answer questions relating to dental health

3.

Look out for areas of tooth decay

4.

Check for any signs of infection or gum problems

5.

Evaluate the bite and potential space problems

6.

Identify potential bad habits

7.

Demonstrate how to properly clean the teeth at home

8.

Possible x-ray and fluoride varnish if needed

9.

Answer any final questions

10.

Congratulate and positive feedback to the child
6 Things to look forward to:
The nice big chair!
Our special dentist chair can move up and down and tilts backward so it feels like driving a race car!
| | | |
| --- | --- | --- |
| | | |
| | | This is a really big chair |
The dentist will count all your teeth
The dentist will put on special gloves and a mask to make sure he is ready to count all your teeth. He will use a very small mirror to look in your mouth to see how many teeth you have.


The water gun that shoots water in your mouth
Sometimes he will use a water gun that shoots out water. This is fun and you can spit the water out or he will use a special small vacuum cleaner hose to dry your mouth.
The big magic light
When you look upwards you will see the ceiling and a really big light. The light is to help the dentist to find all your teeth.


Your Goody Bag with tooth-friendly sweeties
If you play really well with the dentist you will get a special surprise with tooth-friendly sweeties! Yum YUM!
Our 'first visit' Certificate!
You will also get a certificate to celebrate your first dental visit at Blouberg Dental!
| | |
| --- | --- |
| | Never tell your child that a procedure might hurt, or about your own unpleasant experiences. Kids are normally fearless and make the best patients! |
| | |
---