ZOOM Whitening (with light)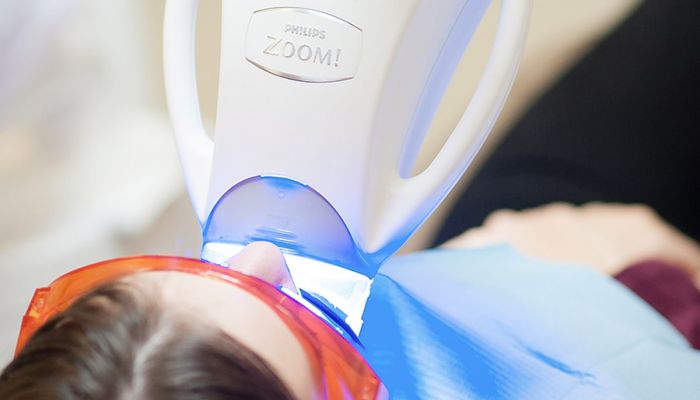 ZOOM Teeth Whitening Tableview
If you just can't wait to get that ultimate white smile and you have to have your new smile yesterday - ZOOM! WHITENING can make your teeth up to 10 shades lighter in under an hour. ZOOM! Whitening is the whitening method used by Dr Bill Dorfman (America's dentist to the stars) as seen on ABC's Extreme Makeover.
Whatever you have heard, read or seen, this is the fastest way to a new white smile with proffesional teeth whitening. People want results instantly. ZOOM! Whitening offers exactely that. Maybe you are getting married next weekend, or maybe you just like to get results faster. Whatever your reason, ZOOM! WHITENING will get you the whitest, brightest teeth in the shortest period of time possible.

How Does ZOOM! Works?
A special light is positioned over the whitening gel which then activates the gel's active ingredient (hydrogen peroxide) and breaks it down to oxygen. The oxygen enters the enamel and dentine, bleaching any coloured substances while the structure of the teeth is unchanged.

ZOOM! in Only 1 Visit
After an initial whitening consultation your dentist or Hygienist will shedule you for a 90 minute Zoom! appointment.
The Appointment:
The procedure begins with covering your lips, mouth and gums leaving only your teeth exposed. The ZOOM Teeth Whitening gel is applied to the areas that need whitening and the ZOOM Teeth Whitening LIGHT is then placed over your teeth to start the whitening treatment. The light and gel work together to gently penetrate your teeth, breaking up stains and discolouration. After only 45 minutes (3 X 15 minute sessions) of teeth whitening, a new white smile awaits you. Over the next 48 hours the whitening process will reach its whitest level.
Home Care:
Zoom Teeth Whitening also comes with an additional home tray whitening system already included in the price. Those with particularly stubborn staining may be asked to continue with a extended special home-use whitening system. You will receive your customized whitening trays and a complete kit with detailed instructions to finish off your treatment in the comfort of your own home.
Although you might be totally happy with your results, a touch-up now and again might become necessary and unlike other whitening products we want to make sure you get and keep your new white smile for as long as possible. This home care represents our 'Customized option' and helps to continue the whitening process in the comfort of your home.
As you can see we have left nothing untouched. With ZOOM Teeth Whitening getting the white teeth you've always wanted in the shortest possible time and keeping them as white, is now as easy as you can say 'ZOOM!'


*Also check out our latest specials on the website for more value!

To start whitening your teeth, make an appointment today or complete the form below. We are also offering a complimentary teeth whitening exam.
---