Dental Veneers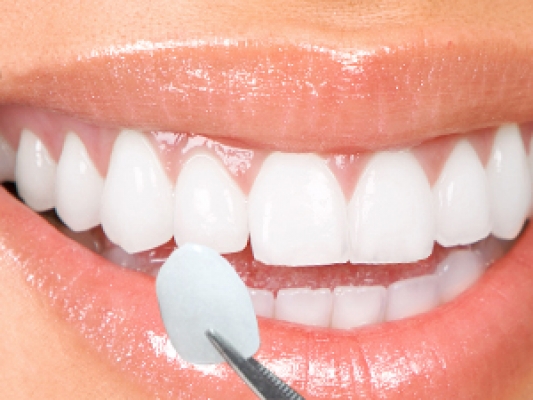 Dental Veneers are the the big hype in dentistry today! These ultra thin coverings are the reason so many people choose to have dentistry done and in effect change the way we all feel about dentistry today.
When patients hear the term "Dental Veneers" the thought of a "Fast & Beautiful Hollywood Smile" jumps to their minds. Dental Veneers require minimal tooth reduction and are therefore more conservative than Dental Crowns. It's not the only alternative for aesthetic abnormalities, but it's truly a remarkable restoration when it's the treatment of choice.


What Are Dental Veneers?
Dental Veneers are thin superficial coverings for teeth. They are usually made from porcelain or resin and are usually applied to the front teeth. Huge cosmetic improvements can be made with veneers to rectify the colour, size and shape of teeth.


Dental Veneers Indications
The teeth must be reasonable healthy, but with an aesthetic problem regarding colour or shape. We don't want to sacrifice a healthy tooth structure in the name of cosmetics. A good balance of minimal tooth preparation and great esthetics are our main objective.
Veneers are made to change the colour, shape, alignment, size of teeth and to close gaps. Although Orthodontics are always the first choice, many people decide to have veneers as it is a fast and quick option. Care should however be taken to remove as little as possible tooth structure if any, to keep this option as conservative as possible.
| | |
| --- | --- |
| | |
| Seating of Veneer | Thin Porcelain Veneers |

2 Types of Dental Veneers


A) Resin Veneers
Resin or Composite Veneers are made with resin (composite) and is directly applied to the tooth to truly makes this a one visit procedure. Resin is the 'magic' material in dentistry today and can easily be adapted or changed even after the final appointment. With corrections or repair work to existing resin veneers, resin fillings or even porcelain (temporarly) restorations makes this the material of choice for many patients. This treatment is generally done in people with small imperfections, and can be very quick and effective.
It is important to remember that resin will stain with coffee, tea and smoking. It has a shorter lifespan than porcelain veneers, and will last around 5 to 7 years. However, with newer resins being developed constantly, the durablility is ever increasing. Slight staining might occur, but can be polished off as part of the maintenance. One of the main differences between composite and porcelain veneers is that composite is generally much cheaper than porcelain veneers. Resin veneers, however demand a very high skill and artistic level from the dentist.


B) Porcelain Veneers
Porcelain Veneers is the Rolce Royce of cosmetic dental treatments and have given Dentistry a very high and glamerous status among many other proffesions! A Porcelain veneer, however may only be fabricated indirectly. A Laboratory technician fabricates the veneer out of porcelain, and then stains and glazes the porcelain for a natural looking appearance.
We make use of CEREC 3D technology and design and mills the porcelain veneer out of porcelain block. We make use of very high quality porcelain called E-MAX porcelain. This is a very durable material and allows for maximum aesthetics. Porcelain veneers can be done without removing much of the tooth structure underneath, and at times we can even cement the veneers without doing any drilling on the tooth.
One of the great benefits of porcelain veneers are that no discolouration takes place over time. The bright white colour is maintained for much longer than normal teeth or composite veneers.
If you think you might benefit from Dental Veneers, please let us know in the form below.
---